Erika Von Bank
Erika has been practicing pottery for over fifty years. She has experience with different types of clay and various firing methods including, wood, electric, gas, salt and raku. At her studio she hand crafts her pottery using slab and coil construction in addition to wheel throwing. Her works are fired in an environmentally friendly electric kiln. Erika's works have been shown in various galleries throughout Western Canada. The Alberta Arts Council has been purchased several of her pieces for permanent collection.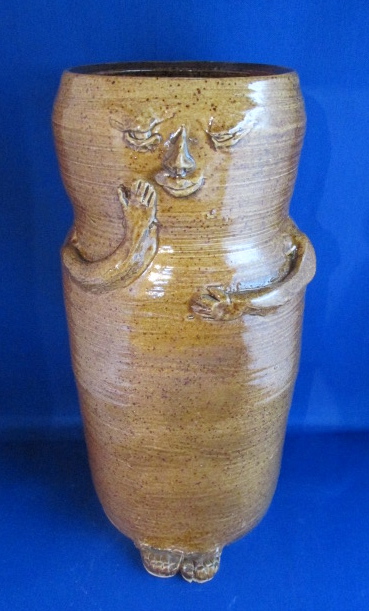 Pridham Studio
David Pridham's thrown pieces are technically precise with a character suited for daily use. Mainly
self –taught he has also gained skills from fellow potters and from the Talavera potters of Mexico.
David builds his own molds, which he uses to support the slab rolled pieces. Once the piece is in
place, Nancy, his wife, then develops the design and hand paints each piece. Nancy has been working
professionally as an artist since 1988 creating pieces that strike deeply resonant chords in her
audience. Her works are in galleries and collections internationally.
Terry Jackson
Terry is strongly attracted to nature and to west coast First Nations art. Living very modestly, he
developed his talents and learned to love simplicity. Early on he was strongly influenced by masters
of this northwest art form and sought to comprehend the visual vocabulary of this art form. After
many years of study and practice he slowly decided to create his own statements about this idiom.
Being of Metis descent, combinations of various art forms found their way into his art. With the
mixing of cultural entities' of today's world this only seemed natural to him.